Vintage Classic Insurance Tailor-Made for You
Peter Best have been providing Vintage Vehicle Insurance for over 35 years, from a Ford Model 'T' to a Rolls-Royce Silver Ghost, these exceptional cars look as amazing on the road now as they did back in their day.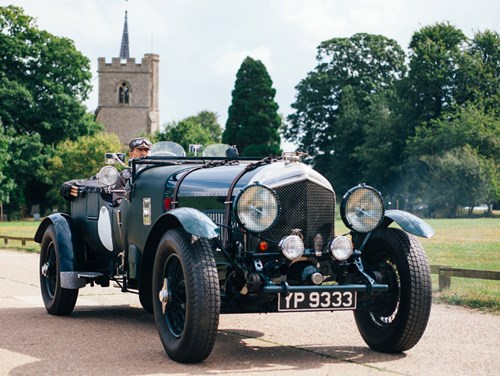 What defines a Vintage Car?
The term 'Vintage', in the automobile world defines a period of car manufacturing between 1919 and 1930. This superseded the period up to and including 1918 which was defined as the 'Veteran' car production era.
Clearly the Vintage car era was an exciting time for the motor industry. Early horse drawn carriages had evolved into steam and simple internal combustion powered cars, with the introduction of the Karl Benz-Patent-Motorwagen in the 1890's.
The Veteran car era first introduced us to the likes of Peugeot with their V-twin engine Type 33 amongst many other models, the Ford Motor Company, Fiat and Renault also joining the fray as the motor car became ever more popular and affordable.
After the end of the First World War the Vintage car production era built on what had gone before and focused on style, comfort, and affordability. These cars were made for the masses, so the choices had to be diverse. Hudson, Chrysler, Chevrolet and Ford were the big US producers, the Ford Model 'T' selling over 15million units alone. Across the pond the likes of Morris, Austin, Singer, Standard and Vauxhall were on the rise, often similar, the cars sharing some components, this was a remarkable period for the motorcar.
Examples of Vintage Cars
There were many car producers during the 1920's. Inevitably some failed, but some would survive to stand the test of time. Hudson produced the Hudson 'Essex', a small affordable car with mass appeal, Chrysler replied with the 'Plymouth' range also appealing to lower income families. For those looking for something of a status symbol choices came from Rolls-Royce with its Silver Ghost and Phantom, Daimler-Benz offered a range of saloons and tourers along with other manufacturers such as Packard, Bentley, Bugatti, Hispano-Suiza and the Duesenberg Model J, popular with stars of the silver screen. Other popular models of the vintage automobile era were the Ford Model A, Falcon Knight Roadster, Packard Twin 6, Willys Overland Whippet 93A, Hudson 7 Roadster and the Chrysler De Soto.
Are Vintage Cars Collectable?
The answer most certainly is yes! There were many car producers that failed in the 1920's such as Auburn, Cole, Crow, Davis, Dixie, Durant, Elcar, Grant, King, Kline, Lafayette, Kurtz, Marmon, Mercer, Overland, Peerless, Pilot, Roamer, Saxon, Stearns, Velie, Wescott and Winton. As limited units were produced, they were always destined to be rare. Those that succeeded either joined forces or were bought up by larger producers.
However many old car names still exist today, brands such as Buick, Cadillac, Chevrolet – (GM Motors), Dodge, Fiat, Ford, Lincoln and Oldsmobile.
Early examples of British and European marques such as Mercedes, Daimler, Renault, Morris/MG, Peugeot and Rolls-Royce (most of which still manufacture cars today) are highly collectable and often very valuable. Collectors are drawn to the fact that much of the production was by hand, their mechanical simplicity, the quality of the components and the expertise demonstrated in their assembly.
Today a Ford Model 'T' could sell for £25,000 whilst a Rolls-Royce Sport Phantom might set you back over £150,000. For serious collectors Peter Best offers tailor made multi-car insurance policies designed around the use, value and security of vintage car collections.
Agreed values are offered, alongside discounts for limited mileage and vintage car club member discounts.
Most vintage car collections also incorporate a selection of classic cars including Porsche, Ferrari and Jaguar which, perhaps, are more usable than some of the older cars.
Vintage Car Clubs
If you own a vintage car or are a vintage car enthusiast there are many UK vintage car clubs to choose from. Most people will choose the one that relates to the vehicle they own, although some clubs cater for multi-marque vintage cars, so the choice is very broad.
Most manufacturers will have their own official car club such as the Mercedes-Benz Club and the MG Car Club but with over 500 separate UK car clubs covering Veteran, Vintage and Classic cars, enthusiasts often join more than one club.
Car clubs offer the benefit of shared knowledge of rare and collectable older cars as well as access to spare parts and contacts with like-minded enthusiasts. 
If you would like to see which car clubs might suit you take a look at our dedicated car club page.